Register here – https://www.cognitoforms.com/BendigoStadiumLimited/_202021JuniorBravesTryoutRegistration
*The Bendigo Junior Braves tryouts may look different to years past, the following information will be emialed once the registration form is completed.
No Spectators/parents – to reduce numbers inside the stadium

Mandatory Zoom information sessions for families

Leg markers will need to be written on at home

No date currently set – This will be set once we receive further information from Basketball Victoria in consultation with the Victorian Government
As restriction have now been eased, the Bendigo Bank Junior Braves Tryouts can commence as last planned for the following dates;
Sunday the 29th of November
Thursday the 3rd of December
Sunday the 6th of December
The Bendigo Bank Junior Braves will be following the Orange 50 guidelines set by Basketball Victoria which can be found here – https://basketballvictoria.com.au/wp-content/uploads/2020/11/BV_2020_ReturnToSport_Guidelines_23Nov.pdf
An email will be sent out on Friday the 27th of November at 4:30pm for the numbers to write on athlete's legs along with the Stadium entry process, this will also be the cut-off date for registrations as walk in registrations may be turned away due to COVID regulations per court.
If you are unable to attend a session please email myself with the Subject Line "Athlete Name, Age Group, Session #), example below
Subject: Devin Gordois, Under 14 Boys, Session 2
If any changes are made between now and Sunday an email will be sent along with an update via the website and socials.
Session 1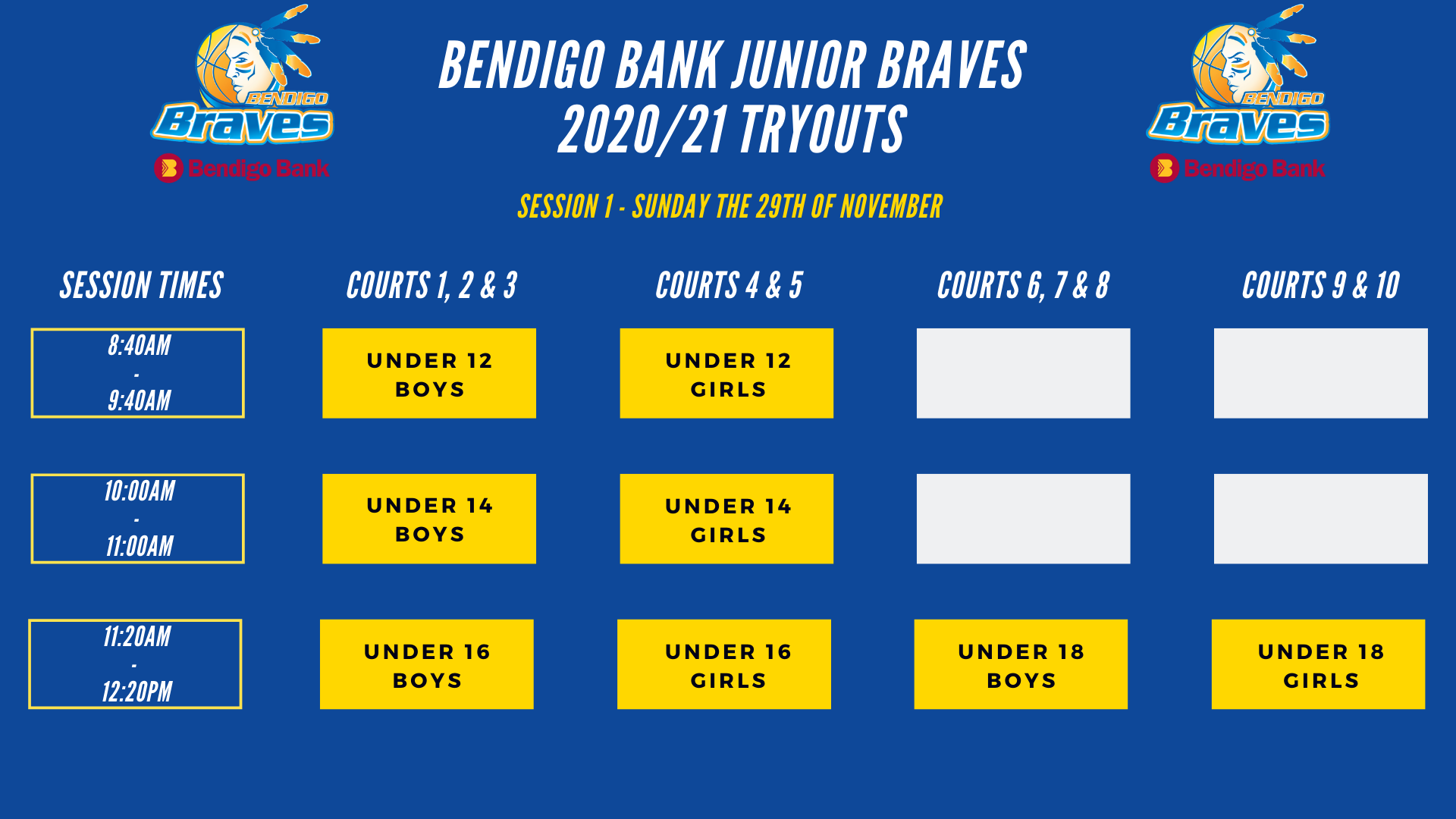 Session 2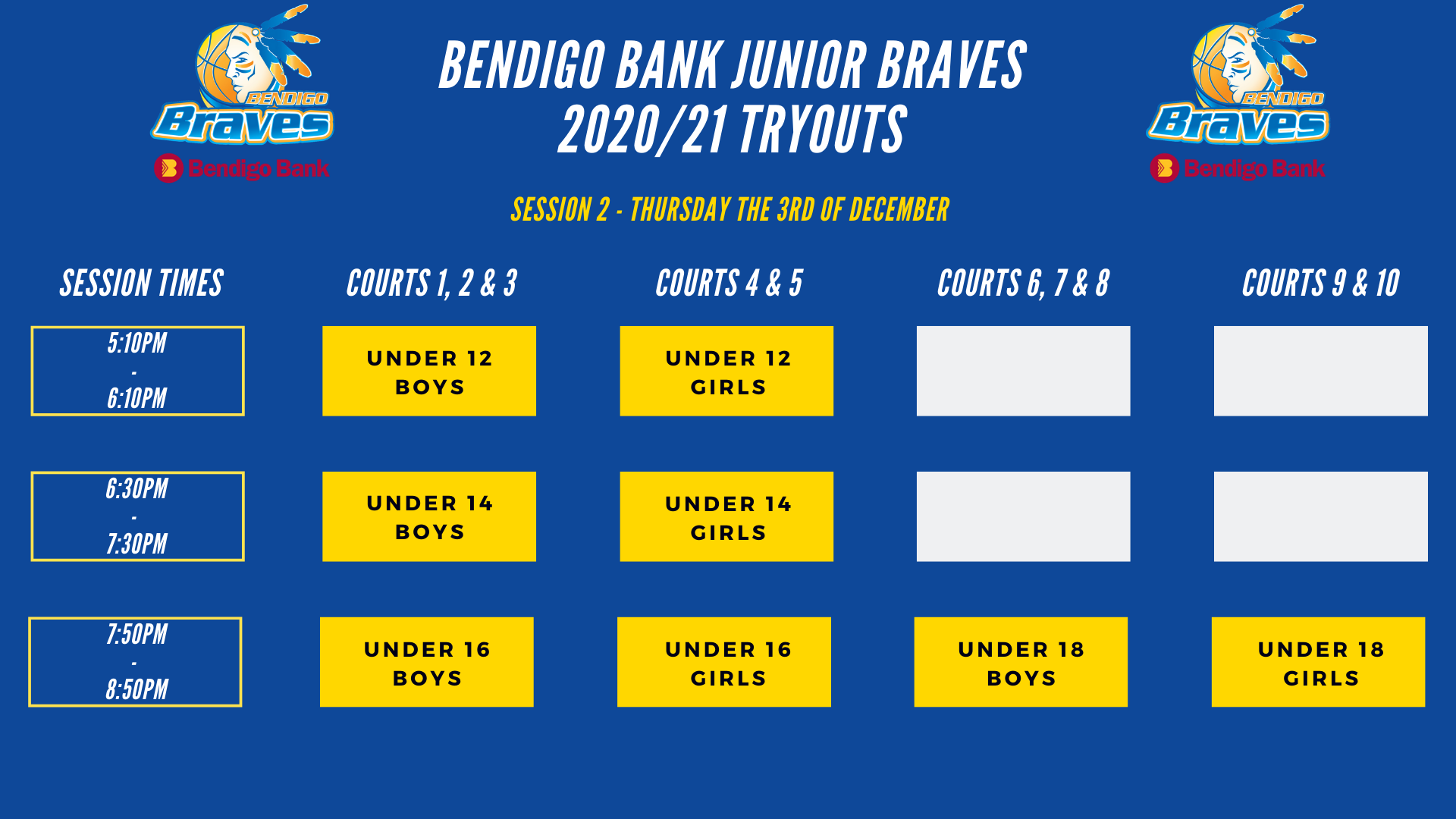 Session 3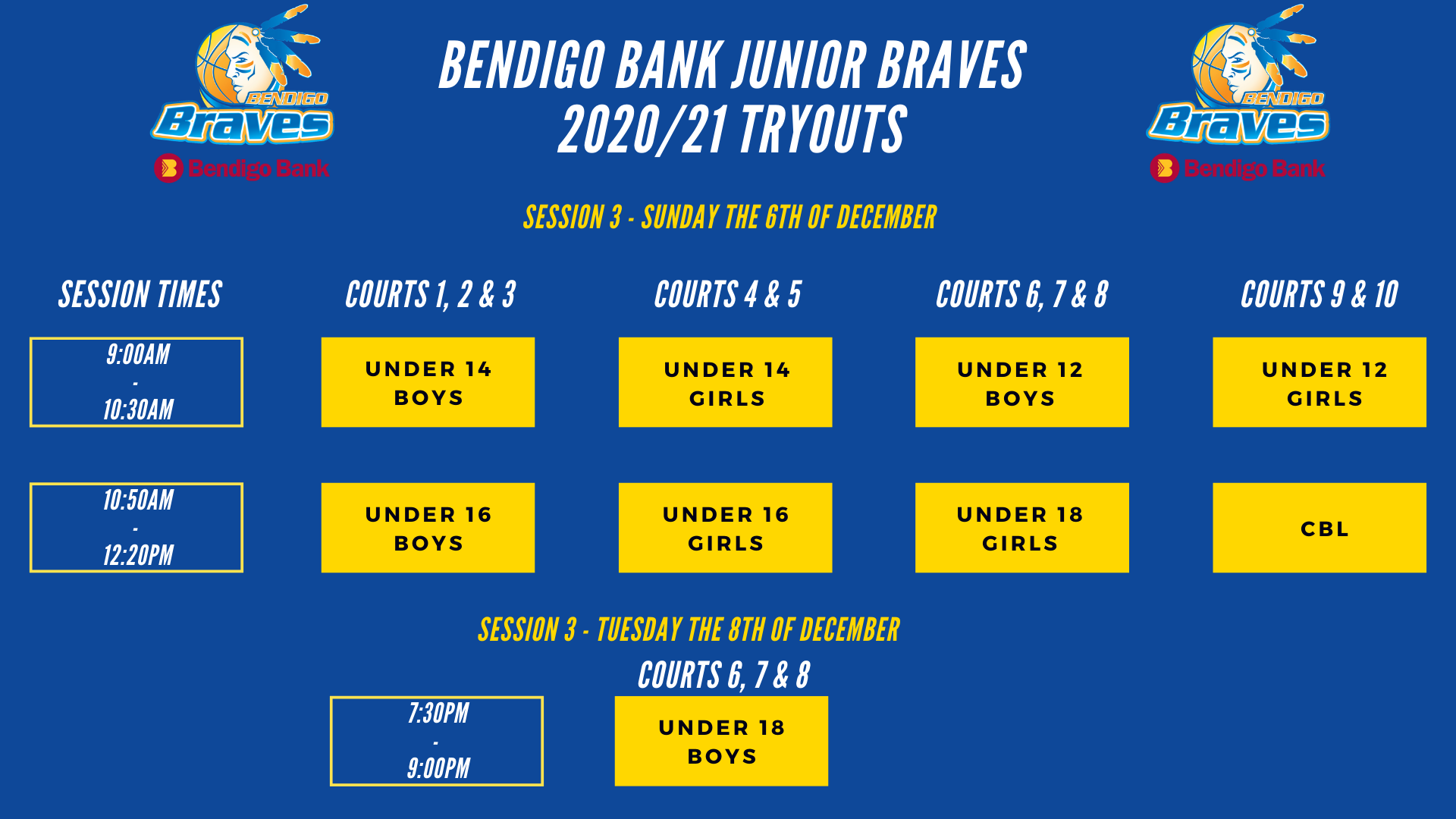 Bendigo Junior Braves Operational Policies & Guidelines –  https://websites.sportstg.com/get_file.cgi?id=36754288
DOCAD's Informational Video – https://www.youtube.com/watch?v=Ghl2JlvuB0U&feature=youtu.be&ab_channel=JoeHurst
Video Recap –
Tryouts are coming soon however we are waiting for further restrictions to ease.
Tryout registrations Live
Active documents will be linked below
Domestic Online sessions are continuing until Tuesday the 27th of October
Junior Braves season year will be different than seasons past
Junior Braves coaches will be meeting in the next two weeks for 30 with Rob Beveridge, return athletes to competitive fitness
For any further inquiries, please contact:
Sports Administrator
Devin Gordois
5440 6246
[email protected]