Welcome to Aussie Hoops. Basketball Australia's official junior game development program for children aged from 6-10 and their families. 
Aussie Hoops is a national program which provides an environment where children of all abilities can achieve on the court and reap the rewards of skill development, enhanced self-esteem, social co-operation and grassroots sports participation.
Aussie Hoops is all about participation and fun.
Aussie Hoops is the next level after Biddy Ball in our basketball pathway we provide at Red Energy Arena. If this is your child's  first time playing basketball, we highly recommend our Biddy Ball program as this is our beginner program. 
Program Details:
Maximum capacity: 40 participants per day
Location: Red Energy Arena
Tuesday – Courts 6 and 7
Thursday – Court 2
Time: 4pm-5pm
Term 1 2024 Program Dates below:
Anything marked in red is a cancelled session due to no court availability.
Please note:
There may be changes to Court locations or Aussie Hoops sessions during the term at Red Energy Arena. All efforts will be made in order to provide adequate notice however at times this may not be able to occur.
Thank you for your understanding!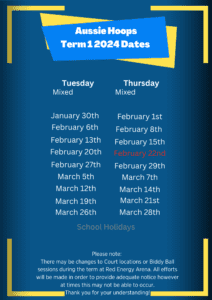 Term 1 2023 registrations are now open! Click the link below to register.
If you would like to complete a trial before registering, please fill out the form attached below.
Once submitted,  you can attend your chosen program on your chosen day.
Please ensure you arrive prior to 4:00pm to sign in and be available to start at the program commencement. 
NEW PARTICIPANT:
Includes –   Participant pack including a singlet personalised with the participants name and Bendigo Basketball logo; backpack, size 4 basketball and stickers.
Cost – $132.50
Please note: This is for those participants who have NOT done Aussie Hoops before. 
RETURNING PARTICIPANT:
Cost – $89.50
Please note: This is for those participants returning to Aussie Hoops for a subsequent Term, and not joining for the very first time.
Returning participants will have the opportunity to purchase items themselves during the registration process. 
All items ordered, for new and returning participants, will be sent directly to the participant within 7-10 working days. 
 
If you are interested in assisting the coaching of this program, please fill in the form below and someone will be in contact with you.
https://forms.monday.com/forms/4ff02fb4dc9558a440b67ce800423f38?r=use1
---
For further information please contact:
Cassidy McLean
Phone: 03 5440 6200
Email: [email protected]