2024 Cadell's Bendigo Braves x Spirit Summer Holiday Camp
We are excited to announce the next Cadell's Bendigo Braves x Spirit Super camp!
The camp will focus on the fundamental skills of basketball with the opportunity for kids to learn from the best athletes in Bendigo.
REGISTER NOW to secure your childs spot in our next super camp!
Program details:
VENUE: Red Energy Arena (Bendigo Stadium)
ADDRESS: 91 Inglis St Bendigo
TIME: 10:00am-3:00pm
DATE: 15 – 17 January 2024
AGE: 5yrs-16yrs
GENDER: Boys & Girls
SKILL: Beginner & Intermediate
DURATION: 3 Days
COST: $50 (1 DAY) OR $90 (2 DAYS) OR $120 (3 DAYS)
WHAT TO BRING: BASKETBALL, DRINK BOTTLE AND LUNCH.
*No Nuts to be brought to the stadium in lunches*
The Canteen will be open all days.
Register here: https://www.playhq.com/basketball-victoria/register/90bef6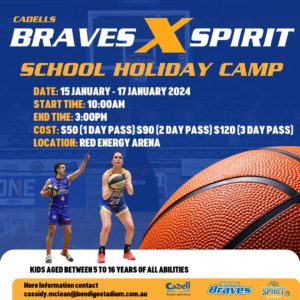 ---
For further information please contact:
Cassidy McLean
Phone: 03. 5440 6200
Email: [email protected]