Come and learn Basketball skills with our Bendigo Braves Superstars! Biddy Ball is our starter program which is coached by our Bendigo Braves athletes.
About Biddy Ball:
Biddy Ball is designed to give kids aged 4 – 8 the opportunity to learn fundamental basketball skills and have fun in a social and friendly environment. 
Biddy Ball is run every Monday, Tuesday and Thursday of the School term. Participants will choose which day best suits the schedule of the family and attend on their chosen day. 
Please make sure all participants are wearing non-marking sport shoes and bring a drink bottle to the session.  
TERM 1 2024 REGISTRATIONS NOW OPEN:
Program details:
Start date: 29 January 2024 – 28 March 2024
Maximum capacity: Tuesday and Thursday – (55 participants) Monday (20 per group)
Age: 4 – 8 year olds
Time: 4:15pm – 5:00pm
When: Mondays, Tuesdays and Thursdays during School Terms
Location: Red Energy Arena
Monday (Girls Only)  – Court 3
Monday (Boys Only) – Court 1
Tuesday – Courts 4 & 5 
Thursday – Courts 1 & 3 
Cost: $50 per term – additional $20 for a Biddy Ball T-shirt if purchased 
Click the link below to register:
https://www.playhq.com/basketball-victoria/register/1c185c
If you would like to complete a trial before registering, please fill in the Trial form below.
Once submitted,  you can attend your chosen program on your chosen day.
https://forms.monday.com/forms/da7e9202b36ff6132c5c6e5bf079d256?r=use1
Term 1 Program Dates below:
Anything marked in red is a cancelled session due to no court availability.
Please note:
There may be changes to Court locations or Biddy Ball sessions during the term at Red Energy Arena. All efforts will be made in order to provide adequate notice however at times this may not be able to occur.
Thank you for your understanding!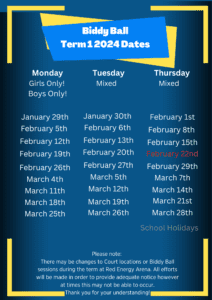 If you are interested in assisting the coaching of this program, please fill in the form below and someone will be in contact with you.
https://forms.monday.com/forms/4ff02fb4dc9558a440b67ce800423f38?r=use1
Want to step up to the next level? Go to the Aussie Hoops tab.
---
For further information please contact Cassidy McLean
Phone: 03 5440 6200
Email: [email protected]